Where do you ship?
We ship WORLDWIDE! Shipping options will be available to you during checkout. We pride ourselves on our processing time and get your orders out very quickly.
United States: We are offering complimentary US trackable shipping right now (UPS or FedEx) and 2-day shipping for a fee. You can also choose Fedex Overnight if you need the bag for the next day.
Worldwide: DHL Express International shipping. The fastest service possible—your package will reach you within 2-6 days with no additional fees/duties.
You will receive a confirmation email upon purchase and then a subsequent email with your tracking information. We also diligently track on our end and personally will reach out to to you to notify of any updates.
How fast is shipping and where do you ship from?
Shipping speeds are so important these days…let's face it we expect to get all of our packages 'Amazon Prime' speed! Our showroom is located in Atlanta, GA USA. We ship Worldwide and get your order out as quickly as possible and get it to your door faster than you'll expect.
How do you wrap and package your orders?
When you purchase from Shop De Cru, the care and boutique service does not stop there. You will feel like it's your birthday when you receive a package from Shop De Cru. Packaged with love, care, and grace, we spend time gently wrapping and safely securing your treasured finds. We will always write you a love note and do complimentary gift wrapping on your pieces.We do complimentary gift wrapping and always include a love note. Receive a beautiful De Cru Dust Bag with your order too 🙂
Do you have a Consignment Program?
Consigning with us is very simple. We will provide you with a prepaid label, and take care of the rest! We will shoot professional photos of your handbags, list them on our website, and market them on our social media @shopdecru and via Google ads. We will handle the sales process and all expenses associated with the sale.
When the item sells and the payment clears, we will send you 60% of the selling price via Direct Deposit, Mailed Check, Zelle or PayPal. For international consignors, you are responsible for shipping the items to us but we can make exceptions so please feel free to reach out nonetheless.
Get Paid Fast. You will get paid within a week (usually 3 days!) whereas other companies take a month or longer to pay and do not offer a variety of payout options.
Better Pricing. We will stick to the listing price range we promise you and will not apply further discounts without your approval.
Marketing. We actively market your pieces vs. just listing on the site, and since we are a boutique and not a giant marketplace, your handbag will stand out and get the attention it deserves!
How do I enter a PROMO CODE?
On a computer: You can enter the Promo Coupon under the TOTAL on the main page of your Shopping Cart.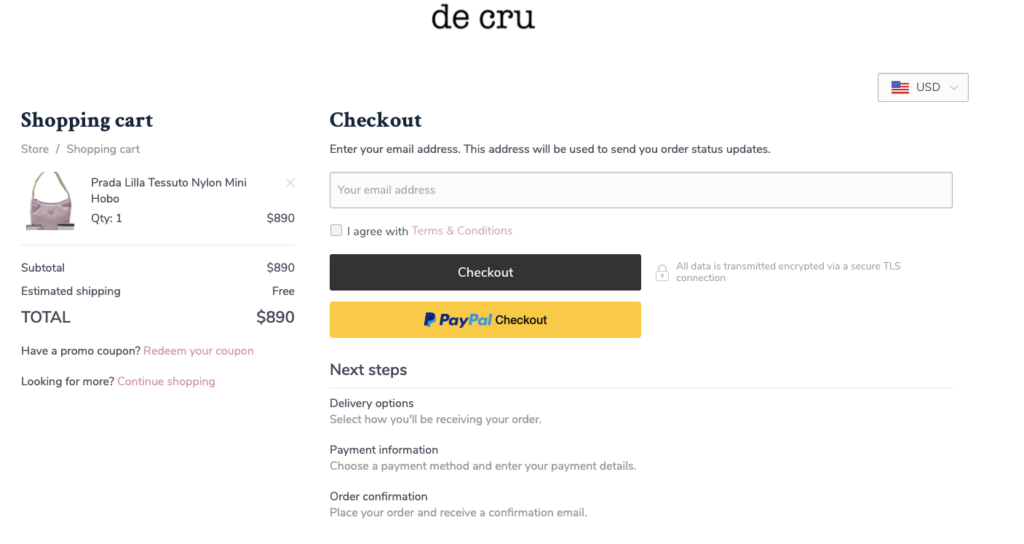 On your phone: You can enter the Promo Coupon under the Checkout Button and PayPal button on the main page of your Shopping Cart.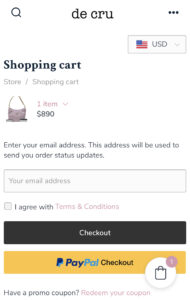 Are you currently offering any Promo Coupons?
Use the code MINE during checkout! Only applies to checkout carts totaling $500 or more. We also offer a marked down price if you would like to do a Bank Transfer or Venmo Business payment. Please send us a direct message on our Instagram (@shopdecru) or shoot us an email for more information! Shop De Cru loves to do giveaways and always has some sort of promotion always available to you. We also have many handbags on sale right now, so be sure to check those out before they sell!
Can I purchase a gift card?
Yes—to purchase a gift card CLICK HERE. If you want a custom gift card amount, no problem, just reach out to us and we will create it for you!
If my favorite handbag has sold, will you get another one in stock?
We tend to source one of a kind pieces but often times will source the same handbag in several colors or styles. We do our best to fulfill all sourcing requests so please do not hesitate to reach out to us via email (info@shopdecru.com) or shoot us a DM!
Where do you source your handbags?
Shop De Cru selects each handbag thoughtfully, considering several factors – lifestyle, condition, trend, wearability, investment. Ultimately, the inspiration behind each handbag is YOU as we carefully curate our collection to fit your lifestyle. You are the De Cru muse. We also accept Consignments, so be sure to read about our customized program!
Do I need to pay import duties and taxes if I don't live in the United States?
There will be no additional fees once you place your order!
Do you accept returns?
We do not accept returns. All items are FINAL SALE. Shop De Cru is very transparent with the condition of each handbag (when you talk to us it will feel like talking with your friend—honest and collaborative). We provide many photos and details on our website pertaining to each piece so that you feel comfortable with your purchase but we will gladly send additional photos of a handbag upon request via Email or Instagram Direct Message.
Do you do collaborations?
Occasionally, we do! Please reach out via email or DM us if you have a business question. We love our De Cru Muses.